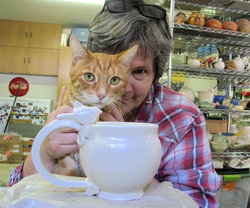 I'm an artist. I love my life.
I'm an avid organic gardener with a weak spot for stray dogs and kind people and red cats.
I love connecting the dots and trying new things.
I like clay, food, family, all things creative, history, puzzles, words, the immediacy of finding answers using google, obscure knowledge, and quiet. Not necessarily in that order. I love working with clay because it makes me feel like I'm five years old again.
I've been married for almost 25 years to my quirky boy next door, Steve. We live in one of the original homes in our area here in Northern Los Angeles. It was built in 1927 on the site of a large Valencia Orange ranch dating back to the 1910's. We still have four of the original orange trees that produce hundreds of pounds of delicious fruit every year. On our little half acre we planted a grove of sycamores around our house that provide deep cool shade during the summer but kept large sunny area out back where we grow a large percentage of our fruit and vegetables. We have fruit trees and raised beds for vegetables. We have two dogs, Penny, a hyperactive ball chasing yellow rescue Lab, our latest addition, LittleDog, a very sweet and very little dog of indeterminate lineage, and one trouble making, attention seeking red cat, Rudy.
I'll be writing more about our life and gardens and critters here as time goes on.
Check out the latest
here.
---